Top 5 Winter Themed Slots
Snowman, white landscapes, sledges and ice skating, are all fun aspects of the winter season. But sometimes, it is better to enjoy the winter days while being inside, where it is comfortable and warm. Luckily, slot enthusiasts have the possibility to enjoy all of this season's delightful aspects from the comfort of their house, and this are the top 5 winter themed slots that keep them playing for many icy hours. While playing, they should not be fooled by the cold titles and themes from these slots, because the temperatures often reach a boiling point when large bonuses and jackpots suddenly show up.
5. Snow Honeys Slot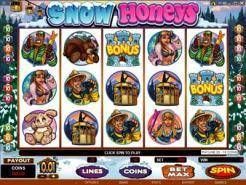 Snow Honeys is a popular video slot creation from software developer Microgaming. The story of this 5 reel slot takes place at a ski resort in the snowy mountains. The three lovely snow honeys spend their holiday in this resort. Various winter related attributes contribute to the theme of the game. Some of these beautifully designed symbols are the gondola, cute snow bunnies, a ski instructor and the attractive snow honeys themselves. At least three ski resort scatter symbols trigger free spins and a multiplier bonus. Three ice castle scatter signs launch the profitable and enjoyable Hide and Seek bonus round, where players win an extra cash amount of 20.000 coins by trowing snowballs at targets. Players use 20 paylines to trigger bonuses and win cash prizes at Snow Honeys slot. They bet with a minimum amount of $0.01 and a maximum amount of $0.50 per line.
4. Winter Wonderland Slot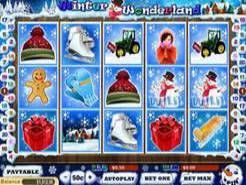 Wager Gaming Technology is the developer of Winter Wonderland Slot. This beloved 5 reel game really puts slot enthusiasts in the winter and holiday spirit with its snowy theme and symbols, which certainly trigger their cherished childhood wintertime memories. These symbols include mittens, ice skates, snow plows, hats and even a gingerbread men. A skier launches the bonus round, a snowflake is the free spins triggering scatter icon and the snowman functions as the wild symbol. Players bet in a range of $0.01 to $10 on a maximum of 20 paylines. This slot game is available as a free practice version and as a real cash version.
3. Frost Bite Slot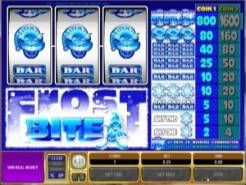 Frost Bite is another wonderful icy and snowy themed slot title from Microgaming. At this game, it is not only snow that drops down on players. They are also showered by large amounts of cash. This classic game will also give gamblers a lot of positive emotions in terms of gameplay. Frost Bite Slot has 3 reels and one payline, making it an easy and straightforward game that is very suitable for beginners. Thrilling win opportunities freeze the players to their seats and the graphics are as clear as a blue winter sky. Frost Bite slot has an icy theme, but players want to make sure that the slot reels do not freeze to a stand still, because spinning them is what brings in the large amounts of cash. During the spinning sessions, players encounter symbols like snowflakes, Frostie and frozen bars. The frostbite is the wild symbol that functions as a multiplier.
2. Frozen Assets Slot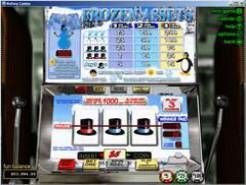 Frozen Assets slot is another classic 3 reel game with one payline. The gameplay from this RealTime Gaming title is easy. It takes only a little bit of time before players figure out how to win big cash prizes via the progressive jackpot and the bonus feature. At this game, players need to create a snowman figure with the use of snowflake icons that show up on the slot reals. The snowflake meter needs to reach 200, because then the snowman bonus becomes available. The penguin icon functions as the wild in this frosty game, and players try to get this tuxedo skinned animal on the reels with bet amounts ranging from $0.05 cent to $5.00.
1. Penguin Power Slot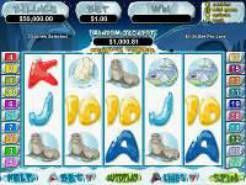 Penguin Power is the winter themed slot with the highest entertainment value. Again, it is RealTime Gaming that is behind the reels and it is up to players to spin them generously and make winning combinations on the 20 paylines. Cute baby pinguïns function as the wild symbol and the scatter symbol is an igloo. The theme of this 5 reel slot game might revolve around a cold and icy environment but the prize opportunities will certainly not leave any player cold. This game is capable of freezing players to their chairs, because of possible win opportunities that could show up on the reels at any moment. However, it also has the very welcome capability of giving players a warm, happy and fuzzy feeling when they hit it big. Therefore, Penguin Power Slot is the number 1 game on this list of top 5 winter themed slots.
It Is Always Time For A Winter Themed Slot Game
No matter if players need to cool down from the hot summer temperatures or if they have to shelter inside during a snowstorm, it is always time for a good winter themed slot game. Various online casinos offer games that are build around this theme, and most of these games offer slot enthusiasts a really good time. Players enjoy these excellent icy games 24/7 via instant play or via downloadable casino software.