Superb New Slot Releases
Can we be at the end of February 2019 already? It seems we can, and there are some excellent new slots to take us into the final days of the month. If you'd like to know which games were released last week, we've got all the latest titles for you right here. Will there be one that sits above the rest and makes it onto your must-play list? We hope so, but let's see what awaits us by viewing the titles below.
No Limit City introduces us to the Owls
We've seen plenty of animals throughout slot games over the years… but are owls a new sight? Maybe not, but we cannot recall a game that has given them center stage as this one does. A white owl dressed in robes and holding a crook greets us as the game begins. Among the features we can expect from the Owls slot is the scatter loot feature. The scatter can appear stacked, and if it does this over the third reel, a scatter payout will be awarded. Wilds can assist in providing some wins here too. If three scatters are found over reels two, three, and four, you can secure some Dream Spins. Will these be a dream come true? Well, you will get a random bonus here, chosen from Emerald Dream, Ember Dream, and Frozen Dream. It all sounds very good so far, with a 5 x 3 format of reels bringing in lots to watch as you play. The scatter prizes work differently to how they do in other games, but this gives Owls a different stance. Whichever version of the Dream Spins you end up playing, you can count on seeing a stacked wild over the third reel for each one. This represents the identical owl that might be seen on the reels as you begin. We'd recommend taking this one for a test drive first, but once you have seen the various features in action, we would not be surprised if you took things further.
Sic-Bo Macau comes from BGaming
Yes, you are correct – Sic Bo is not a slot game. However, BGaming has introduced this new version of it this week and it will be included in several online casinos, possibly including the ones you frequent to play slots. The screen is very appealing, shown in four colorways. The various dice combos are laid out to be easy to understand, with your chosen chips on the various parts of the screen when you are betting. Sic-Bo Macau may not be the best game to play for slot players, but it might provide you with something else to try when you need a change. This is certainly another version of Sic Bo you could check out if you're in the mood.
Enjoy Playtech's take on Wheels 'n' Reels
There is no huge surprise to learn this game is based on car racing. The title image confirms this, as do the various icons appearing over the five reels of the game. The familiar checkered flag is used as a wild, and some tires appear in the Pit Stop Bonus icon. Trophies, helmets, and racing cars might also appear on the reels. The Pit Stop Bonus involves some free games, but you won't know exactly what is involved until you pick a tire. They all have different colors on them, so choose one and see what you get. The result will award a certain quantity of free spins along with a multiplier on all the prizes you manage to locate. You then click on continue and play them. You only need two Pit Stop Bonus icons to appear to trigger this, with one on the first reel and one on the fifth. Better yet, you can win further freebies (up to 20 each time) by getting the same trigger during your free games. If this should occur, you will stay with the original multiplier awarded. Playtech has done us proud with this slot, and we predict it will be a huge hit when people discover how entertaining it is to try.
NetEnt unlocks their Golden Grimoire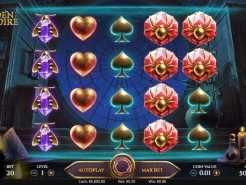 We're are not yet sure what Golden Grimoire might mean, but we do know that since this new slot was created by NetEnt, we are likely in for a good time. Things look promising from the start, with a five-reel format adopting four icons per reel for a bigger game. One nice feature here is the inclusion of a mystery symbol shaped like a book. Whenever this appears on the reels – and this could be in full stacks – it will change into another random symbol. All the books that appear will change into the same symbol too, so watch closely to see what the outcome could be. It cannot appear on all the reels, but it can appear over the final three. In some circumstances, other symbols nearby might change too, although the rules sound confusing for this. There is a chance you might get a huge array of wilds out of this feature too, as the wild is allowed as a mystery symbol reveal, along with medium-value and low-value symbols. Unfortunately, this is the only way the wild can appear. Mind you, it does mean you could get lots of them in one go. The wild won't replace the scatter or the mystery symbol, but everything else is fine. The scatter is a golden image featuring a lock inside a triangle. This can appear on the three odd reels in the main game, triggering eight free games whenever three of them show up. The freebies include sticky mystery symbols appearing from the second reel over to the fifth. Throw in 40 lines to bet on and you can see this game has some appeal.
Gorilla Go Wilder is a delight from NextGen Gaming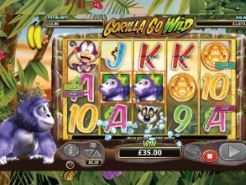 This gorilla won't be found in a forest or jungle. Instead, you can find it on a beach. Yes, we know, and we guess that is why it has gone wild. This is an entertaining game with cartoon monkeys and gorillas popping up all over the place. The backdrop of a calm ocean is nice to look at too. The gorilla wearing a crown is used as the wild, and the scatter is a bonus island image. Two or more of these will grant you a prize. The bonus islands feature is a great part of this game and looks set to be very popular. All islands are locked to start with. Upon the first trigger of the bonus, the first island unlocks. The second island unlocks after another three triggers, and on it goes. Look forward to seeing Sunset Beach, Scary Forest, Tiki Bar, Volcano, and Crystal Cave among others. Each island grants you 10 free games, but you will receive a different bonus in each version. This makes life a lot more interesting – especially as the gorilla has the power to randomly trigger this feature too. You can also look forward to a Shell Re-Spins feature if you get lucky. This can be randomly earned following any spin in the base game. You get one re-spin, but if any other shells appear, you get another re-spin. This continues until the screen is full or until no other shells turn up. This has a different element to it depending on the quantity of triggers too, so watch out for that.
Symbols of Egypt is released by PG Soft
Could we possibly see anything new in a slot game based in ancient Egypt? We are about to find out, as PG Soft has released the Symbols of Egypt game, complete with plenty of symbols and multipliers, if the opening imagery is anything to go by. The game is unusual in that there is a 3 x 3 grid at the bottom of the screen. Above it, there is a grid featuring several symbols. The center area of the top portion of the screen shows a changing multiplier value. As you find combinations on the reels, certain areas of the above section will light up. The game tells us we must complete a line to win a multiplier. With nine lines to play over and something a bit different on offer, this does appear to put a new twist on the theme of ancient Egypt. It works beautifully on mobile devices too, given the presentation of the game. There is also a wild symbol that is beautifully colored and can appear anywhere to aid you in winning something. With multipliers going up to x30 here, Symbols of Egypt may take a while to get used to, but it is worth playing the demo to see what you think.
Search the Temple of Treasure opened by Blueprint Gaming
If we say this game is called Temple of Treasure Megaways, you might get an idea of what lies in store for you here. It offers guaranteed Megaways, cascades triggering into action whenever a winning line occurs, and a mystery symbol feature too. If several mystery symbols appear at once, they all change into the same symbol. A Megaways slot requires a bigger screen to work with. You will see six reels here, with varying numbers of icons on each one. You will also see other icons above the main reels. The Aztec-style appearance of the game is brilliant, with blocks appearing on the side of the temple mentioned in the title. There is a bonus here, but if you would rather buy it instead of waiting for it to trigger, the Temple of Treasure slot gives you the option to do just that. This involves free spins, and you can choose which version of the round you would like to play. There are four here, with 15, 10, or five freebies given with various Megaways in action. The more spins you choose, the smaller the number of Megaways in play. The final option is to go for a mystery choice, where you get a mystery number of spins with an unlimited win multiplier and a mystery number of Megaways. This is one of those slots you really need to try before deciding whether to bet on it. Fortunately, you can do just that.
iSoftBet treats us to a Super Diamond Wild slot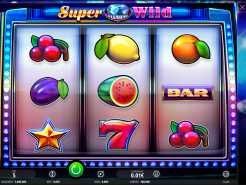 This is not the most complex of slots we will see in this week's collection. However, it does provide us with a pleasant game. It uses a 3 x 3 format, so it is smaller than some of the other titles we've reviewed thus far. Furthermore, one neat feature is that if two stacks of identical symbols appear on the reels, the other reel will spin again to see if a winning combo can be formed (if one has not already appeared). Meanwhile, if you manage to get an entire screen filled with the same symbol, a spin of the bonus wheel is in order. There are various multipliers on this wheel, so a spin of this will reveal whether you can expect a bigger prize. The neat three-reel presentation appears over to the right of the screen. You then get the paytable over to the left, so you can always see it there. With clear options and familiar symbols, the Super Diamond Wild slot does indeed give us diamonds as wilds, so it might be better to play than you'd think.
Sit on Genii's Throne of Gold
Will this be a throne you'll want to sit on, we wonder? At the time of writing, we know very little about this slot game. We do know it has a stunning opening image, featuring a detailed multi-turreted castle behind the name of the game itself. It seems to have a dramatic theme taking us into the past too, but we will see about that. We suspect it will have a 5 x 3 format, so that much might be typical of many other slots. However, there could well be more to it than that. We also know it will be available on desktop and on tablet and mobile devices. So, if we are keen to learn more, there is a chance we could find this at a casino online soon.
Lemur Does Vegas, according to Spinomenal
You can always count on Spinomenal to give you a superb theme that goes into new areas. Have you ever seen a lemur in Vegas before? You're about to! The lemur is dressed for the occasion too, with a smart suit and hat on. The title of the game looks just like the real Vegas sign, so it immediately gets you in the mood. What does the game offer, though? It provides a standard five-reel formation with three symbols appearing on each reel. Traditional bar, bell, and diamond icons are among the ones that might appear. There is a wild too, written in blue on a gold background. The game also includes random win multipliers, extra wilds with x2 and x3 appearing on them, and a bonus symbol. This bonus works differently to how you might think. The reel it lands on will light up, and all five must be lit for you to trigger a bonus. The wheel will then appear, and you must spin it to see what happens next. There are various multiplier values on the wheel, along with free spin sections. Your total multipliers, remaining spins, and free spins will be totaled in the boxes on the right. Once your spins have completed, you will proceed from that point. If you do manage to secure some free spins, any successful spin that brings you a prize will result in a re-spin for no charge. The winning symbols you found will remain in position for the re-spin, but everything else changes to provide a chance to try and secure more prizes. We get 25 lines to bet on in Lemur Does Vegas, with Lemur himself acting as host throughout.
Head for The Great Gambini's Night Magic from Green Tube
The Great Gambini sounds like a magician, and that is exactly who you will meet when you start this game from Green Tube. He is casting spells over his hat when the game loads, and suddenly the title appears. The game itself promises far more than this though. You can expect the Great Gambini to unleash one of four modifiers, as they are called, at random during play. For example, he might trigger Levitation, Quick Change, Guillotine, or Reel Magic. Who knows what any of these might hold for you if you give them a try? The screen for the game looks superb, with the magician standing off to the left ready to aid you during the game. The wild is his hat, featuring a spell or something similar bubbling away inside. Only the free spin icon cannot be substituted by that hat. Three, four, or five of the free spin icons (labeled here) are enough to get five, 10, or 15 freebies. Each spin brings you a special symbol. Should that symbol appear on the third reel, it will become stacked there. Not only that, it then copies to reels two and one as well. We guess you can imagine how good that might turn out to be.
Carnaval Forever is a true delight from Betsoft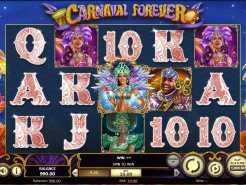 If you fancy playing a game that uses virtually every color and shade in existence, this Betsoft title is the one for you. It has a five-reel format with people celebrating in brightly-colored dress. There is certainly a carnival going on here, and over those five reels you can expect to see an ornate mix of letters, lots of celebrants, and perhaps the odd useful symbol too. You can look out for the Carnaval Queen herself, who can appear three, four, or five times in one spin. Whenever she does, five, seven, or nine free games will be granted to you. The best bit about these spins is that every single spin will bring one or more prizes to you. If the queen should appear again during those games, each appearance will grant two more spins to keep things going. We played the demo and managed to find several more Carnaval Queens to add to our ongoing total. There is a wild here as well, shown in multicolor shades and featuring the outline of a dancer. Someone is having some good times here, and we think you might too.
Head out on an Aztec Adventure from BF Games
We've all been to the time of the Aztecs – at least, we will have if we've tried any of the many Aztec-themed slots around already. We have another one to try now in the shape of BF Games. Will this give us anything we haven't seen before? For starters, the design is superb. An idol sits behind the three reels used in the game, holding them in its hands. It shakes them every time you spin the reels, so it provides some great insight into the theme in a new way. If you get a matching combination, the screen turns to the side and the idol gives you a thumbs up! There is a wild on the reels along with a scatter, and both are labeled in the appropriate way. The game also includes the chance to gamble your winnings, although we personally do not like such a feature. If you do want to try it though, you will see a cup and coin game where you must choose which of the two cups the coin will appear under to double the winnings. Despite only having three reels, nine icons can be seen with each spin. You can also look out for three scatters to appear. If this should occur, you would secure a generous selection of 15 freebies to play through. The 3 x 3 format also means you can enjoy playing over 27 lines, so this game offers you far more than you might have guessed.
Scatter Brains 2 released by Playtech
With a title like that, you just know we are headed back into zombie territory with this game. You will see lots of them as you view the opening image in Scatter Brains 2 from Playtech. We can't remember the original, but maybe this one will be more than memorable to stay in the mind? The Scatter Brain scatter is rather appropriate, and it can get you five free spins whenever it appears on each of the middle three reels. That sounds very small, but each free game will see three zombie wilds wandering around. Whenever a wild manages to cover a picture icon, a respin is given. This can lead to improved prizes whenever the zombie behaves itself as you'd wish! Of course, the odd respin also means your freebies will last longer, as well as potentially getting some better results. Various images in pastel shades appear over the reels, making it easier to spot winning combos. The scattered brain is easy to see too, not surprisingly. While you won't spot any scatters in the free spin feature, you will occasionally spot a feature wild. This is a brain too, but this time it appears in red. This replaces everything else, awarding a 3x multiplier whenever a zombie wild lands on top of it.
5 Lucky Lions are unleashed by Habanero
Lions have roared into view in a few slots up until now. Now, it is Habanero's chance to entertain us with some lions. In this case, it will be the famous Chinese lions that can be seen. You might be surprised to see six reels here, although this seems to be becoming more common. Whenever the lions appear in a win, they pop out of the screen and celebrate. At least, we think that is what they are doing. There are several of them, as the game title might suggest. Having 5 Lions in play is handy when you trigger some free games, because each lion offers a certain amount. The wild is a happy smiling figure, and the scatter is a small red and gold pot. When you choose your free game option, the lion representing that option will be the only one appearing during those games. Four stacked lions are added to one reel at random prior to each spin. There are 88 lines here and 88 coins must be wagered per spin. If that suits your budget, you might just want to check out 5 Lucky Lions today.
King Solomon's Mines are opened by 2by2 Gaming
Three people await us in the opening image for King Solomon's Mines. This is a familiar title, no doubt, especially as you might have read the story. If not, there is no need for concern as you will learn all there is to know by playing this game. It takes place in a forest setting with mountains in the distance. The five reels give us the chance to spot exotic-looking letters, with a wild saying just that too. This can appear over reels two through to five. The game features a random Wild Arrows feature as well. If this should occur, you'll watch as random symbols are changed into wilds. Another symbol worth looking for is the bonus scroll. Three of these will deliver eight free games. You can then pick an option inside the mine to determine which additional feature will factor into those games. Will it be Wild Vines, Wild Arrows, Symbol Eclipse, or Random Feature? We'd choose random as you never know what you'll get, but whatever you choose, you could end up with more bonus spins to play too. The game has been nicely put together by 2by2 Gaming, with lots to look forward to when you play. Will you take it for a practice spin?
Kalamba Games gives us Atlantis Thunder: St Patrick's Day
We have all heard of Atlantis, and it is certainly no stranger to popping up in random slot games. We doubt we have ever seen it given an Irish spin though, and yet that is what has occurred this week with Atlantis Thunder: St Patrick's Day. No prizes here for guessing what has inspired this release, but will it live up to the odd mix of themes revealed in the title? The first glance we get of the reel set would seem to indicate this is going to be a good game. We have six reels to contend with, offering a 3-4-5-5-4-3 formation to look at. That alone makes things interesting on every spin. It takes place beneath the waves, with some good elements built into every aspect of the game. One screenshot shows us four possible options in the free spin feature. We can also expect a wild multiplier to appear in each one. The screenshot shows us we can purchase this feature if we wish, but we guess there is a chance to win it as well. Another screenshot of the game indicates that whenever a temple appears on the screen, it could bring us some more freebies. It would seem different quantities are secured depending on how many temples appear. Unusually, the WILD 2x and the WILD 3x symbols count as two and three symbols each respectively. So… not just a multiplier then? With three potential jackpots, the temple appearing as a bonus symbol to trigger the free spins, and a regular wild too, this game does pack in a lot of features.
Which of the above titles appeals to you most this week?
There is plenty of choice here to round off February in good style. It is, as always, very difficult to pick a favorite. We like the Golden Grimoire title from NetEnt, but then Gorilla Go Wilder is great too, mainly because of all those islands to explore. Do you have a favorite from this new collection of slots or are you struggling to pick one too?