New Slot Games
Here we are diving deep into March, hoping once again to find some engaging new slot games to play. We have yet to be disappointed in terms of quality and excitement, and we have 13 more slots to check out this week. Will any of these be clear highlights or will we be treated to some impressive games once we start to find our way through the themes on offer? We have titles to look forward to from iSoftBet, NetEnt, Merkur, and more this week. So, without further ado, let's see whether you can discover a new favorite title in the following collection.
Triple Buffalo means triple the fun from High 5 Games
When you spot a slot game called Triple Buffalo, you'd expect to see three of said animal appearing in the title image, wouldn't you? They are there, but they seem to be shown as hovering heads, albeit quite detailed ones. It makes for an interesting slot to view, for sure! When we reach the game itself, we see five reels with varying numbers of icons on each. The game from High 5 Games gives us a 3-4-5-4-3 formation to go with. You might guess that equates to way wins rather than lines, and you do indeed get a whopping 720 possible ways to find prizes on every spin. Triple Buffalo turns out to be a great title too, as the buffalo icon can appear as a split symbol. That means it could show one, two, or three times in the space of one icon. The game includes a Pick Bonus icon too, where you can do just that if three of them appear. This means you can select a prairie dog to see what happens next. One screenshot shows lots of those dogs, with various holes indicating prize amounts of credits. Maybe you can look for prizes in those holes if you get that far.
Red Rake delivers a dynamic Bonnie and Clyde slot
History tells us that Bonnie and Clyde were criminals, largely romanticized in ways not everyone agrees with. They met an untimely end, of course, although that is not touched on in this slot game. The game has five reels, but it also has four icons appearing on each one. There is a wild that appears in the colors of the American flag, with Bonnie, Clyde, and various weapons also appearing during the game. While the game pays from left to right as usual, Clyde pays both ways, so he might bring you prizes you would otherwise have missed out on. He can also appear up to full height on each reel. The game info tells us we could net up to 750x our triggering bet when Clyde appears. Meanwhile, Bonnie gets her own role to play in this game. She can appear over the reels in a spin and grant the player some free games. Up to 300 freebies are possible, depending on how many times she appears during one spin. Each appearance could result in a number appearing on her icon. These quantities are then added together to bring you the total number of freebies you have earned. With a chance to spot stacked wilds to aid you in your search for prizes, you never know what the next spin of Bonnie and Clyde might lead to.
Fugaso gives us Stoned Joker 5
Do we mean stoned as in… stoned? Well, yes, we do – look at the joker in the title image and you will see how easily this is confirmed. We do have a five-reel, five-line game here though, with an assortment of the usual fruit symbols appearing in every spin. The game is more interesting thanks to the presence of a mini, midi, and maxi jackpot underneath the reels though, each represented by a treasure chest. You can expect the joker to turn up in this game, and he might just bring you some good fortune too, thanks to his role as the scatter. Three or more can appear anywhere to grant you a scatter prize. However, that is about it for special features. There is no wild in play and you won't find any bonus features. So, aside from those three jackpots to go for, you may not find too much else of note in Stoned Joker 5 slots.
It's a Super Duper Crazy Chicken Easter Egg from Gamomat
Wow, could that be the longest title of the week? Easter is approaching, of course, so perhaps it was only going to be a matter of time before chocolate, bunnies, and eggs started popping into view on the reels of some new slot games. This one was released on March 5th, and it does indeed feature some ornate eggs and some chickens too. The five-reel slot has some familiar controls underneath those reels, so if you've played other titles from this developer, we doubt you'll have any issues with this one. There are 20 lines to cover, and there is a feature called Extra Eggs Power. You'll need five eggs in a combo to trigger this. All the eggs on the screen at this point will randomly change into another high-value symbol. That seems to be the only feature included in Super Duper Crazy Chicken Easter Egg, but if you're searching for an Easter-themed slot, this could be worth checking out.
Scudamore's Super Stakes is first past the post with NetEnt
Any game from NetEnt is going to be worth exploring, and Scudamore's Super Stakes has a clear horse racing theme to contend with. Does that mean you should be a horse racing fan to make the most of it? It will help, for sure, but you can certainly appreciate the detail that has gone into the creation of this title. Mind you, you wouldn't expect anything else from NetEnt, would you? Random wilds can appear during the game, according to the information we have from the promo video. Something called a Bet Slip and a Peter's Classic Cup feature also factor into the game. Stacked symbols increase the chances of bigger prizes, while any notable win sees lots of horseshoes thrown into the air to help celebrate! The golden trophy is a scatter symbol, while the Bet Slip gives you a chance to win by collecting certain symbols inside a specific spin quantity. Sounds confusing? The game paytable reveals more, and we suggest you check it out before considering taking this one for a spin. There are various options on the slip, so it makes sense to see which one might be best to look at. If you find three gold cups, you can play the Peter's Classic Cup feature on extended reels. You can even choose which horse to go with in this feature, which again introduces another element of horse racing. Peter is the wild, while random wilds come onto the reels in the shape of horseshoes… of course. This is an engaging game with enough on offer to please everyone, not just horse fans.
Triple Edge Studios introduces Bookie of Odds
Hang on, does this sound more like a sportsbook than a slot? It might do, but we can confirm we are getting a 5 x 3 slot to play here. It is the second game this week to feature horse racing though, with various appropriate images turning up on the reels. Each of those five reels can bring a respin feature too, if you care to wager another bet to make such a thing happen. It does give you more control but beware it can be a good way to rack up your bets without guaranteeing an outcome. With 10 lines to bet on, Bookie of Odds provides you with a golden book icon that must appear three times to trigger some free games. Three, four, or five books will bring 10, 12, or 25 free games respectively. These games will feature a random special symbol. Whenever this symbol appears, it will expand to cover the relevant reel if doing so would bring you a winning line. This game doesn't have the depth of features offered by the NetEnt title above, but it does offer a different take on horse racing. It will therefore prove entertaining to those who love this theme.
Meet the Zombie Hoard shuffling in your direction from Slingshot Studios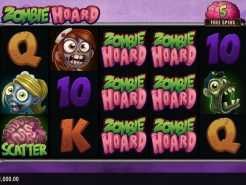 More zombies?! They seem to be popping up everywhere just lately. Now, we get to meet more of them from Slingshot Studios, although this lot looks fairly harmless. Mind you, we guess other people might make that same mistake… The Zombie Hoard slot is a light cartoon slot featuring various freaky characters. You will also see the logo for the game popping up in view occasionally. This is a five-reel game offering three icons per reel, while just nine lines are in view. There is a wild here, which is the game logo, and a brain with a chunk taken out of it (ugh!) is the scatter. Two or more brains will bring you prizes, so we guess that is good to know! That wild can be super stacked on the third and fourth reels in the main game, becoming super stacked on all five reels once you reach the free games. Three scatters are needed to make that happen, or 30 tokens collected when they appear on the low-value symbols. Additionally, all the tokens you collect prior to triggering the free spins will contribute more spins to the amount won. Every token is worth an additional game. As such, this game has a couple of neat twists that make it more entertaining than it might otherwise have been.
Dragons Awakening… is that good or bad news from Relax?
Dragons have popped up in new slot games already this year, but could the dragons from Relax Gaming be the best ones yet? The detail in the first image we see of Dragons Awakening certainly seems to bear that theory out. Once the game itself loads, we see a 5 x 3 matrix that seems carved out of stone. Various dragons appear on the reels of the game, with ample detail hewn into each one. The slashed W does indeed appear as a wild, which can replace everything else with no exceptions. That's good to know. Meanwhile, there is a feature called Awakening Free Spins. Before this begins, the card suits appearing in the rocks are changed into dragons. As you might guess, the dragons are valued more highly than other icons, so this could have good results for you. To access these games, you must find three, four, or five scattered icons on the reels. The symbol is shown as a V inside which is a dragon skeleton. You can't miss it. For those quantities, you would receive five, 10, or 30 free spins respectively. add 20 paylines to bet on and you can see the dragons are waking up to a great game.
Open the Book of Immortals from iSoftBet
Does that sound like a book you would like to open? We bet it does… any mention of immortals usually leads to an appealing game to check out. That is true of this one from iSoftBet too, with an ancient Egyptian theme coming into play here. Although that theme is far from new, it does give us a chance to enjoy some notable features within a familiar setting. For example, this game features a Scarab Swap element. The idea is that the scarabs can swap out symbols randomly during play. So, you might not think you're onto a winner, only to see symbols change to alter that outcome. Book of Immortals also features Expanding Free Spins. A symbol is randomly selected ahead of these spins to become an expanding symbol for their duration. The game features gods too, and if any of these are selected during the free games, those gods will become immortal. This means they get the power to expand on each spin of the reels. The 5 x 3 set of reels is surrounded by gold, with a separate set of three icons above the main set. Secure three or more scatters to secure 10 free games, with a reward multiplier for your total bet as well. There may only be 10 lines on offer in this game, but there are lots of other features to watch out for.
Blueprint Gaming unleashes the Legacy of Ra Megaways slot game
The mere mention of Ra takes us instantly into ancient Egypt, where many riches might await those who seek to discover the truth about this time in history. The Legacy of Ra Megaways slot is certainly packed with some familiar imagery. It offers pyramids, pillars, and much else you might expect to see in such a slot. It also offers up to 15,625 ways to win, hence the Megaways part of the title. One icon you will want to search for as you check out this slot is the Legacy of Ra logo. This is the icon responsible for bringing you some free spins. The more you get, the more spins you will secure. Additional freebies can be found throughout the first set of spins won, too. Meanwhile, the game also promises you will see a special symbol active as you go through those free games. This is a six-reel game, with various quantities of icons appearing on each reel. The Megaways aspect of the game means that different spins can feature different numbers of win ways. However, the current number in play will always be shown above the reels. Throw in a Bonus Bet feature and you can see how the game includes various elements many players will appreciate seeing.
Play some Hide and Seek with Merkur Gaming
There are times when the first image you see of a slot game brings you some real excitement. Here, we get a policeman holding some handcuffs, a cartoon police car, and a criminal making off with a bag of goodies. The cartoon appearance of these characters certainly gets us in the mood for what could be a good game from Merkur Gaming. Will that be the case, though? This five-reel, 243 ways to win slot features these characters on the reels. We can also see a safe, a sniffer dog, and the usual mix of letters popping up. The criminal turns out to be truly wild over reels two, three, and four, appearing in full height occasionally too, and replacing all but the policeman. The cop, as you might therefore guess, is the scatter symbol. Three of his icons appearing will win you five free games. Find four or five and the total freebie amount increases to 10 or 15 games respectively. There is also a bonus symbol that will only appear during the base game. If the bonus symbol appears in all three positions on reel three, a multiplier is granted at random and applied to the total wager you placed on that triggering spin. This awards a prize before you continue. Meanwhile, any wilds appearing during free games will remain where they are for the next spin. This means there is a chance of playing with a few expanded wilds in place. As you can see, you'll love playing this version of Hide and Seek.
Imperial Fruits are the order of the day with Playson
The newest release from Playson is yet another game to pack lots of fruit onto the reels. We get five such reels here, and the mention of the word imperial suggests a royal theme. That is the case too, as a crown resplendent with jewels can appear over the reels as well. A nice rich red background adds to the royal theme. You might wonder how many lines are involved with this slot. You might equally be surprised to discover just five of them. That does make it an affordable game to try though. The crown could be useful as the substitute symbol on the middle three reels of the game, while the diamond star and the gold star are both scatters. The gold one seems to pop up everywhere, while the diamond one is appearing over reels one, three, and five only. There doesn't appear to be a bonus or free spin feature here, which means Imperial Fruits is rather a basic game, albeit one with appeal for some.
It's time for Lucky Streak 3 from Endorphina
Lucky Streak 3 doesn't tell us much about this game, nor does it reveal whether the game is going to be worth trying. However, since the opening image features lots of fruit and a red seven too, could this be a three-reel slot we are looking at? It could, and while that may not appeal to everyone, lovers of three-reel games will like the options available here. This is the next episode of Fruit Saga, as the promotional video attests. The game uses a 3 x 3 format, delivering five lines to wager on. Fruits, sevens, and bar icons are the order of the day here. The flaming sevens are the biggest payers, with 7,500x your bet payable for getting three of these on an active line. However, there isn't much else to say about this slot, with a gamble game the only added perk here. We are not keen on those features, so it would seem this game is aimed at a narrow audience.
Which game makes it to the top of your list this week?
It's a tough choice, isn't it? Our personal favorite (although it sure was hard to choose) must be Scudamore's Super Stakes. We can confirm we are not fans of horse racing, which should tell you just how appealing this game is. We think many others who don't ordinarily watch horse races will enjoy it too. It has plenty of appeal, great graphics, and various elements that make almost every spin more enjoyable. Will March continue in this great direction with more sensational slots to play soon as well? We'll let you have another fresh batch of new releases next week.