Betsoft Announces Charms and Clovers as the newest Title in the Slots3 Franchise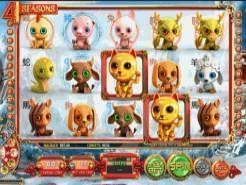 Play Now
Hot on the heels of its latest success, Betsoft has announced the release of Charms and Clovers, the newest of the developer's popular Slots3 series. The cheers and accolades that the company received for their latest slot, Birds!, had not yet ceased when the developer made it known that they were pushing the envelope yet again. Charms and Clovers is Betsoft's initial foray into slots with six reels and allows for the addition of more bonus features to the title. The industry leader has had great success with all of the games in their Slots3 series and they expect nothing less from their latest title.
Betsoft and the Slot Road Less Traveled
You can count on one hand the number of well-known slot developers that have expanded into the realm of six reels: WMS Gaming was the first with Red Flag Fleet, Microgaming released the amusing Germinator and most recently, RTG released Super 6 Slots . Now that Betsoft has entered one of the industries less trodden areas, many are excited to see what happens if Charms and Clovers is a winner and the possible explosion of 6-reel games that may follow if it is as big of a success as other Betsoft releases.
An Expansion to Six Reels Leads to added Bonus Features
Any online slot game enthusiast with a considerable amount of experience in the industry, either as a player or a professional, knows that Betsoft would not stop at just adding an extra reel and calling it an innovation. Betsoft has let it be known that four bonus games will be based on the sixth wheel; they are keeping most of the details under wraps at this time, but have announced the basics of three of the bonus games. The Money Wheel Feature gives bettors a chance at one of three jackpots, the Mega Symbol Bonus is a scatter-style bonus game that awards free spins and the Pots of Gold Bonus, which may provide up to 20X the initial bet.
Slot3 Series a Proven Success for Betsoft
Since the release of Betsoft's first Slots 3 game, Mad Scientist Slots in mid-2013, the series has been a solid success for the industry leader and now consists of 61 titles, including the latest releases, 4 Seasons Slots , Frankenslot's Monster, and of course, Birds!. "CHARMS AND CLOVERS is a brilliant addition to our Slots3™ collection of true 3D video slots," said Stephen Jackman, Betsoft's Head of Product Development. "The addition of a sixth reel adds chances for big wins like never before, especially with the three-tiered Jackpot system in place."
Another Potential Success for Betsoft
All Betsoft titles are known for their exceptional quality, but games that innovate with new technology and game play have been the most successful for the developer. Preliminary information about Charms and Clovers indicates that this will be another big hit for Betsoft, the Slots3 franchise, and online slot players around the world.