Dinosaur Adventure Slots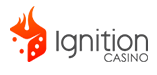 Play Now
Dinosaurs rear their huge heads in lots of online slots, and it isn't hard to see why. There is something captivating and dramatic about their size, their mighty strength, and the fact they did once exist. They're not like unicorns and dragons – we can imagine what the earth was like when dinosaurs were around. You don't need to go back in history to meet them though – not when you decide to play the superb Dinosaur Adventure game from Genesis Gaming. Are you ready?
Reels and win lines
While you get the familiar five-reel setup in this game, you might be surprised to realize there are no paylines. Instead, we are treated to a huge 1,024 ways to win prizes.
Coin values in play
The ways to win format means you need only choose the amount to play on each spin. This can be a value between 40 cents and the maximum of $20.
Dinosaur Adventure special symbols
Remember the raptors in Jurassic Park? They appear here too, and they are used as scatter symbols. The wild is shown as a volcano on the verge of blowing its top. This is one of the theories for what might have caused the extinction of the dinosaurs. We'll never know for sure, but the wilds won't replace those scattered raptors.
Bonus features to watch out for
The raptors can bring you free spins, starting with eight for three of them. If you find four or five raptors, you'll get 15 or 20 free games instead. These games use the wild on reels two, three, and four. However, every wild has a multiplier of between x2 and x4 in value. So, if you get a wild win, it will be multiplied by the displayed value. And just two or more scattered raptors in the free games will bring further free spins to enjoy.
Download, play, and win with Dinosaur Adventure slots today!
Well, we would hate to see the raptors in reality, as the characters did in the Jurassic Park movie. But we don't mind seeing them here, as they can bring some free spins along for the ride. Turns out they are useful after all! Dinosaurs are fascinating for many reasons – not least the size of some of them. We cannot imagine creatures that size today, but we can see them in the likes of this Dinosaur Adventure.