Slots With Best Bonus Games
Slot games come in all formats. For example, you could go from playing the simplest three-reel slot filled with fruit to playing a complex five-reel slot packed with bonus features. That's what we're going to look at here – slots with bonus games included. If these are among your favorite games to play, watch out – we've got our personal rundown of 10 top bonus slots to try now. How many of these could become new favorites for you? Let's find out more.
Good Girl Bad Girl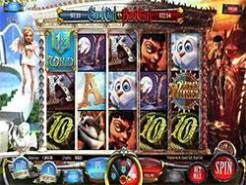 This is a great five-reel slot based on three play modes. You can play in Good Girl mode, Bad Girl mode , or choose a mix of both. In the latter case, you'll need to wager double the amount on each spin. We can also throw in a unique wild feature connected to each of the girls. Halos and pitchforks, anyone?! The game also manages to pack in two versions of a Click Me Feature, plus a mixed one if you go for the mixed betting option. There is also a Money Wheel feature, which again brings you three separate versions of the wheel depending on the bets you decided to place. This is a great game no matter whether you're feeling good or bad!
Hall of Gods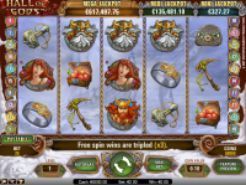 Stepping into the Hall of Gods would seem to be a challenging and nerve-wracking thing to do, right? Well, maybe not if you play the Hall of Gods slot game. This is a game that is big on scope the whole way through. NetEnt has brought us a game with three progressive jackpots involved. There is also an expanding wild serpent that gives you a chance to garner some more wins. As for bonuses, you can win up to 20 free games in Hall of Gods with the help of the birds. These can be triggered again, and all come with a 3x multiplier on prizes. There is a separate bonus available too – triggered by three appearances of Thor's hammer. Once these appear, you can play for a prize by smashing your way through various shields. Match three amounts to win.
Alchymedes
You could call this a bonus slot game with a difference – or maybe many differences. Yggdrasil has given us a 5 x 4 slot game with numerous levels build into it. The idea is to get winning combinations to turn those positions into gold on the reels. When you fill in the entire 5 x 4 grid in gold, you progress to the next level. There are wild patterns throughout, changing with each successive level. You can also secure multipliers on the Alchemist's Scale. There are also mini features built into this game, triggerable whenever you manage to progress to the next level. This appears to occur at random, but there are various bonuses you could win. Multipliers, coin wins, and wilds are all possibilities.
King Kong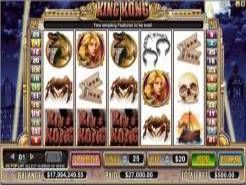 Okay, so you know the story, and this slot game really makes the most of it too. You can check out the King Kong Goes Ape feature whenever you find the gorilla on the third reel. He takes over that reel and causes other wilds to appear on other reels. You can then see how much his temper tantrum has brought you in wins. King Kong Smash is unlocked whenever you find three scatters on the reels. In this feature, Kong takes down some planes out of the sky. The more he swipes at, the more free spins you will win. You can win up to 150 here. But you could also exchange your spins for a cash prize… unfortunately, that's a mystery until you choose it, so choose carefully.
Frankenstein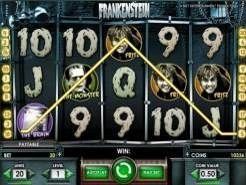 Would you be shocked to find a lightning wild icon in the Frankenstein slot game ? If you know the story, you'll know it has a purpose for being there. But this is just the start of the fun in this slot game. You can check out the free spins feature whenever you find three windmills in play. In these spins, you will receive a fire wild feature instead of the usual lightning wild feature. This mixes up the spins you will get, not to mention the potential prize-winning outcome.
Lost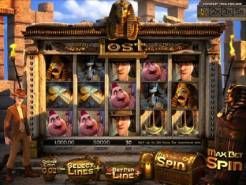 Are you Lost Slots ? You won't feel it when you play this Betsoft Slots slot. Developed in 3D along an adventurer theme, it is chock-full of bonuses to enjoy. The staff is the wild, expanding if it appears on reel three. Meanwhile, if the monkey appears on reel four, it will trigger a Click Me feature for instant on-reels prizes. The game also includes the popular re-spin feature that occurs when winning combinations are found on the reels. This can lead to further prizes. But perhaps the highlight here is the chance to play the Mummy Slots 's Tomb Bonus. The adventurer takes part in this, and you must guess which door to choose to help him escape from the mummys in the tomb. If you guess incorrectly, it won't end well…
Bridesmaids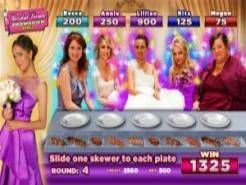 If you enjoyed the movie, you will want to check out this amazing slot game. All the familiar faces from the movie appear on the reels, with some appearing over more than one reel position at a time. The main attraction here is the Wheel Bonus. While you can get into this with three cupcakes appearing on the reels, you never know what might happen next. The Wheel takes you into one of six bonuses. There are Flying High free spins and Friendship free spins for starters. Then you've got Magic Moments, Jackpot, Multiplier, and the Boutique Bonus. Some last longer than others, as you can imagine, while you occasionally get to see clips from the movie too. For fans of Bridesmaids, this game packs in a lot of fun and humor.
Once Upon a Time
This is another engaging 3D slot to play, based on a fairytale theme. That much is clear from the title, but which stories are taking place here? Well, you might find a dragon as the wild on the reels. While it only appears in the first position on reel three, it will breathe fire to ensure the whole reel goes wild. Meanwhile, three of the tree houses will trigger a bonus called Those Crazy Goblins. This gives you five free games, with each appearance of a tree house giving you another free game as well. All sounds ordinary so far, but there are four other bonus features to trigger too. Watch out for Greedy Goblins Slots , the Goblin's Treasure Bonus, How She Loved the Knight, and Save the Princess. Each of these takes place either on the reels or in another location, giving you lots of elements to look forward to.
Super Lucky Frog
Will you be as lucky as this frog? One of the earlier NetEnt games, this still packs in some awesome bonus features. Aside from an elf taking on a wild role here, you can enjoy some free spins if you can find three, four, or five fairies in the base game. You would receive 10, 20, or 30 free games for these. But that is not all. The Jackpot Game gives you the chance to try and win one of the three jackpots the game holds in store for you. To get through to the game, you must get three frog bonus icons on a payline you have played a bet on. The wheel then appears with the names of the three progressives on it. There is another prize amount you might also win if you land on the gold coin featuring the number one on it. Three frog-themed jackpots are just one element of this game we think you will love.
Jumping Beans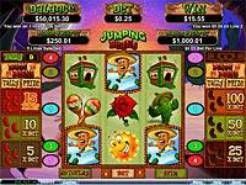 This slot is a cute one, especially since it only uses a 3 x 3 matrix to get the game underway. There is a Mexican theme here, indicated by the Jumping Beans Slots themselves. While the above games are all built around five reels, this one shows how good a three-reel slot can be. The beans have character in this game too, which makes it even more fun to play. But let's get down to the fun in the Jumping Beans slot. Firstly, you should know that Mr Bean is the wild icon. This acts in the normal way, replacing everything apart from the scatter in the hope of winning more prizes. Mrs Bean is, of course, the scatter! The best bit is to win 10 free spins from three of her appearances. During those spins, you will collect various beans in the tallies shown on either side of the reels. Reach a certain level and you will win the amounts shown on the Bonus Beans markers. This is the best part of the slot and it gives you more to look out for as those 10 free games get underway. You could score up to 100x your bet for collecting all the Bonus Beans required to make it happen.
Do you have any other favorite slots with bonus games included?
You can see all these bonus slot games pack in plenty of varied bonuses. Some have more than others, so if you are keen on games where you never know what the next spin will bring, stick to those. Betsoft is known for developing slots without free spins but that have tons of bonuses involved, just as they have in the ones we mentioned above. There are new bonus slots being released all the time as well. If you play a few new ones, you might just discover some new elements and features you have never seen before. That would be one great way to find some new and even better bonus slot games to try whenever you're in the mood, wouldn't it?