100-Line Slot Games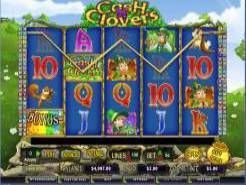 Play Now
Most slot games that use paylines have anything from 10 of them or more in action. You might see 20, 25, 30, or 40 of them, and sometimes 50. But it is rare indeed to find a slot game with 100 paylines in play. This is the greatest number we have seen in a game, and we haven't seen too many that offer this amount. You can try your luck at these games by looking for Cash and Clovers Slots , Cashapillar Slots , and Lion's Pride among others. But if you want to know why you should try them, read on.
You can win up to 100 times per spin
Well, this should be obvious, but it is worth spelling it out. If you play a 20-line slot, you're going to get that many chances to win with every spin. However, if you play a 100-line slot, that gives you five times as many chances to win. We like the sound of that, and although we know you won't win that many times in a spin, multiple wins are more than possible.
They can still be played relatively cheaply
These games tend to allow the minimum coin value of one cent to be played. That means betting on every line will incur a spin bet value of a dollar a time. We've seen games that allow less than a cent, although they are rare. For example, you might bet 50 cents on every spin of a game with 100 fixed paylines. That is a great game style to look for, wouldn't you say?
They tend to use a larger format
If you're going to fit 100 lines into a slot game, you're going to need a bigger format to make it work. These tend to include an extra row of symbols to look for. For example, instead of a 5 x 3 game, you might see a 5 x 4 game. It means you've got far more to look at and explore with every spin of those reels. We doubt we will ever see a game with more than 100 lines in action. Anything more tends to tip into the 'ways to win' territory we all know so well. But these 100-line slots do grab the attention, and we know they have their fans. Will you be one of them? Try some now and see if they'll be winners for you.