888 Ways to Enjoy Slots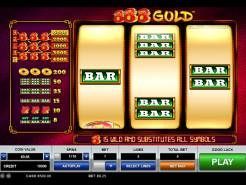 Play Now
Pragmatic Play is behind lots of entertaining slot games, as you may already know. The number 8 is lucky in Chinese lore, so it is no surprise to find it used multiple times in a couple of their titles. Here, we explore the delights offered by 888 Dragons Slots and 888 Gold Slots , to see which title is the best one. In our opinion, of course! Will you agree?
888 Dragons
Can we expect to see 888 dragons in this game? Maybe not that many, but they do appear in this intriguing three-reel game. The reels are large, and there are just three icons to look for. The dragons appear in red, green, and blue, and the idea is to get three identical ones on the payline to win a prize. You can also get three assorted dragons appearing on the single line to win something.
888 Gold
There is a hint of three reels in the main image for this game, so it is no surprise when we find that is exactly what is available here. Much like the above game, there are very few symbols involved. The number 8 is the big winner, and if you get 888 on one of the five paylines – yes, there are five, despite there being just three reels – you will win a major prize. This is worth from 1,000 coins to 6,000 coins, depending on the line the three 8s appear on.
Our verdict: Which is best?
This was a tough decision to make because we love both games. But if we had to pick one, we would pick 888 Gold. We like the fact there are five lines to bet on, with the chance of winning up to 6,000 coins if three eights appear on the fifth line. That adds some more interest, which is why we love it. With that said, we love the detailed dragons appearing in three colors in the 888 Dragons game too. There may be just three icons appearing in that game, but it shows how a good design can make this work. If you want something minimal, check out 888 Dragons and see what you think. In fact, if you want to enjoy some slot game fun, you could do a lot worse than to check out most of the games in the Pragmatic Play collection. They deliver way more entertainment than you might think.