Spinfinity Casino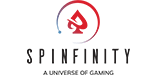 Play Now
Have you heard about the new Spinfinity Casino? If not, settle back and read through our comprehensive review on this new online casino. We have covered everything you might want to know about it. What can it offer if you are looking to sign up? Can anyone join? Does the Spinfinity name reveal a casino packed out with slots? We can confirm the answer to that last question is yes, but we'll reveal more about the casino throughout the remainder of our review right here. If you want to know anything about it, we can help.
Supported by a famous software brand you're going to love
Most players who have tried some games at a few online casinos will undoubtedly be aware of a company called Realtime Gaming. They also go by the term RTG, and their logo is quite familiar too. With their software giving this casino a solid structure to build itself on, you are in for a great time exploring their many casino game titles.
Time to explore the games lobby
Head into the games area via the menu at the top of any page and you shall soon see what awaits you there. The games area is compact, yet it gives you a one-click choice for each game type you might want to try. We liked the specialty area, as many of RTG's more unusual games are found there. You've also got a slots area with several subcategories tucked away to look through.
How easy is it to sign up?
You can see the invitation to join from the second you land on the casino's home page. This mentions the welcome treat you can claim when depositing into your new account, too. You can complete their straightforward form within seconds once you're ready to join.
Signup restrictions at Spinfinity Casino
There would always be some, right? Early in the Ts and Cs you'll see you must be at least 21 to play there. A little further down that page, the list of countries that are not welcome to play at the casino is given. This confirms those in Australia are not welcome. The situation in Europe is murkier, given that lots of countries there cannot sign up, but lots of European countries do not appear on the list. Check and confirm whether your European location (if that is where you live) is there. We haven't mentioned the USA and Canada yet, but that's because they're not on the prohibited list. Good news for you if you live in either of those locations and you'd like to sign up at Spinfinity Casino.
You can expect all the usual casino games to appear at this casino
They are all in the menu for the casino, so you can spot the typical mix of table games and card games, specialty options, and of course the slots too. RTG does provide its players with more than just slots, although they are still most famous for those, of course.
Slots are divided into sections for ease of exploration
Some of the sections cover the quantity of reels you can expect to see in those games. However, we also liked that the casino had a category in which all the games displayed at least one bonus feature. Since bonus rounds are often popular among fans of RTG games and slots in general, this is a speedy way of reaching them.
Did you know you can try some free games too?
Spinfinity Casino is good at providing its players with a chance to try before placing real wagers on its games. Selecting any game automatically loads the demo, which gives you an option to switch over to the real version in the top right of your screen. It does mean you cannot expect to collect real prizes, but it gives you plenty of demo credits to play with, just so you can get the hang of any game you want to try.
Pay to play games whenever you are ready
We've explained how to make the change to the real thing, but you'll need an account to be able to do this. Always check the game you choose offers coin values in line with your budget. You want to get the most play out of an individual title that you can.
RTG is adept at releasing plenty of new slot games
There isn't a section just for new slots, but you'll spot the new games area quite easily. Most of the games in there are slots, so all the latest releases from Realtime Gaming can be found in that very area. There is never a month that goes by without something new cropping up.
The coupons section of the menu is where the promotions are found
And there are lots there to look through, too. New members can get a 250% bonus on top of the first deposit made, while various other deals appear that can be used by current members. This is something you cannot count on finding at an online casino, so it is nice to see Spinfinity has done well to treat existing players once that first deposit deal has been claimed.
Tournaments don't appear to be a thing here yet
Some casinos go overboard in supplying tons of tournaments to look forward to. However, we found no signs of anything like this at Spinfinity. They've only just launched though, so that could mean there are chances to find tournaments launching in future.
Casino prizes and payouts are there for the taking
The biggest prizes are offered in the progressive jackpot games, and we know there is a category that just covers these. However, there are many games offering fixed jackpot amounts, along with plenty of smaller prizes throughout the range of easier-to-win options on the paytable for each game.
It doesn't look like there are any rewards to be had though
Many casinos offer comp points or reward programs, but we found nothing to suggest such a program is present here. This could change, as many new casinos launch without all their features present. We'll let you know if anything crops up in this area.
Do you plan to go mobile with the casino?
You can easily visit Spinfinity Casino via a tablet or smartphone. This would be ideal if you don't want to sit at your computer, you don't fancy using a laptop, or you're away from home. You can use any suitable iOS or Android device, with no apps to download before you begin.
Playing without registration is permitted
Great news! If you want to experiment with a few of the demo games at Spinfinity Casino, you can do it today. No signup is needed for you to do this, which means it has never been simpler to check out a few of the RTG games on offer at this casino. We think you'll probably go ahead and join the casino once you've tried a few of their most popular games, but at least you can see what you think first.
Is this an instant play online casino?
Yes, you are never asked to download anything. When you choose a game to play (whether you are logged into your account or not), you are taken to that game. It loads using whichever browser you are on, requiring nothing more than a few seconds to complete and be ready to play.
Affiliate details if you would like to earn commissions
Being an affiliate for an online casino gives you the opportunity to try and sign up new members. Paying members would then earn you commissions, as per the details given by Legend Affiliates. They run the program associated with this casino, and you can visit their site to learn more.
Nothing sporting about Spinfinity
Not in a bad way – this is a superb casino, as we now know. However, it doesn't provide you with the option to use a sportsbook or racebook, nor are there any bookies involved to take wagers on sporting events.
Blog/forum possibilities
We'll keep this bit short – you won't find anything like this at the casino.
Are there live dealer games to play?
No, none of the table games operate with live dealers.
Deposit options to use
The casino has opened with several methods already live. These include Visa, MasterCard, and Bitcoin. Others are going to be added soon, covering several e-wallet options.
What about making a withdrawal?
If you wish to withdraw anything you've won, you can use Bitcoin or request a check. Bank wire options are provided as well. E-wallets look set to be added soon too.
So, Bitcoin can be used to fund your account and withdraw winnings?
Yes, which makes it a great option to consider. Even more so when you realize the casino has a coupon you can use to claim a huge 500% bonus on a single Bitcoin deposit. Use this wisely, as it can only be used once.
Need a little help?
If so, we suggest you read through the FAQ first, as this might resolve your query. If not, the terms and conditions are useful and should always be read. They do offer live chat though, which puts you through to a team member who should be able to help you with anything you're stuck on.