Bovada Slots
Whether you are a practiced online casino player looking for your new favorite or fresh to the excitement of online casinos, either way, online casinos for USA players for fun is a great way to get to know a new casino. Playing in the demo/guest mode at Bovada casino, for example, is the perfect introduction to their casino. Bovada lets you play all their games in guest mode but without the initial financial commitment. With an exceptional Bonus Rounds, Free Spins and exclusive bonuses it's the perfect place for USA players looking for exciting play.
Head to the Yucatan and dig up cash at Aztec's Treasure Slots.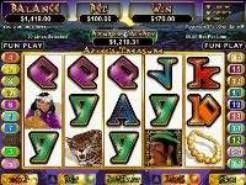 Prepare to head into the Mexican jungles to seek out gold left behind from Kings in the ancient Aztec's lost civilization. Start your journey with some sparkling spins on this animated 5 reels 25 paylines video slots game where brave warriors and beautiful Princesses once ruled these distant lands. You'll discover many ways to uncover the treasures with lots of features to show you the way with free spins, random progressive jackpots, a guaranteed treasure bonus, multipliers, and an amazing 40 winning combinations. Time to put down your backpack, set up camp and get to work uncovering all the gold and jewels this video slots game can offer. Soon as you arrive you'll see many gorgeous symbols with bold colors all animated and beautiful images to look at including an Aztec King, Idol, Leopard, Necklace, Treasure, Aztec Princess, Mask, Ace, King, Queen, Jack, Ten and a Nine. The Aztec King is the wild symbol and the Idol is the scatter symbol. There's also a good assortment of betting option starting at $0.01, $0.02, $0.03, $0.04, $0.05, $0.06, $0.07, $0.08, $0.09, $0.1, $0.25, $0.5, $1, $2.5, $5.00 and a maximum bet of this game is $125. Now head on over to the Aztecs Treasure Feature Guarantee Slot Bonus Game and take your chance at winning $75,000 for getting 5 Aztec Princesses and your quest in Mexico will be complete.
Witches and Wizards Slots will cast you a winning spell.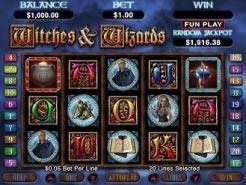 Your winning streak will be like a stroke of magic when you play this 5 reels 25 paylines video slots game. Let your fantasies run wild and live in a world of wizards and witches ready to make all your dreams come true. All the medieval calligraphic typography, graphics and symphony music really makes you feel like you're playing in Merlin's Castle. All the characters are there waiting to make your luck to become magic with wonderfully illustrated symbols painted in fine details that include a Gorgeous Blonde Witch, the Debonair Wizard, a Cauldron, a Magic Wand, a Magic Book of Spells, K, J, a Q and the Skulls & Bones. There's an interesting animated magic hand that comes across the reels and sprinkles magic dust every time you hit a winning combination and then begin playing the bonus rounds. There are lots of chances to win free games and this slots machine is loaded with fun features and a real gem to play. Time to let Merlin cast you a winning spell and grab all that sparkling cash.
Speed your way on over to Hydro Heat Sots.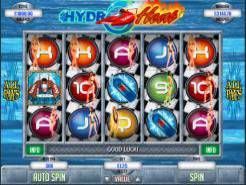 Set your coarse for full speed ahead and play 5 reels video Hydro Heat Slots game that comes with 243 ways to win and you'll take the checkered flag. Start your engines and put your pedal to the metal, you're going to win this race with so many features and free games you'll be taking the winner's circle in no time at all with 33 winning combinations. This game is all about fast boats, sexy girls in bikinis and flashy colors with cool music and amazing sound effects. The water background graphics really sets the pace for a race on the ocean. You'll also find lots of betting options that will range from 0.25 cents up to $125 per spin. There's a really fun bonus game when you hit three scatter symbols on the reels. Now, race on over to the Random Progressive Jackpot and fill your trophies full of cash prizes.
The night is young, time to play Reel Blood Slots.
On to Transylvania where you'll be in search of Vampires and romantic mysteries with this new blood thirsty 5 reels and 243 paylines video slots game at Bovada Casino. Prepare for all the enchanting graphics and classic Transylvanian music playing along to every spin. This game has coffins full of features and cash prizes that will show you how to win and they will come out all day and all night. Once you step into this blood thirsty world you'll see just how lucky you can get when you relax at the Blood Bar and sip a few of your favorite beverages. This game is richly designed with elegant lines, reds, blacks, classy colors and oozing blood graphics. Then prepare to pick the 15 bottles of blood that appear on a bar wall in the game. The player gets to keep choosing individual bottles and collecting the prizes that are revealed. Then you will continue to do this until one of the two events takes place and then gets the bottle that says, "Collect". The symbols really makes this game seductively sexy with vampires on the reels that include the infamous Vampire, a Sexy Vampire Woman, The Vampire's Victim, a Vintage Bottle of Blood with a Bar Glass, the Reel Blood Logo, and the Reel Blood Crest along with an A, K, J, and Q. Drink up with victory and lick your lips when you win the Random Progressive Jackpot.