Will You Pick the Right Bonus Cards?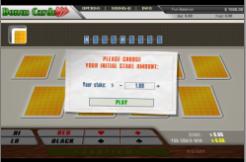 This is an intriguing question and it relates to an incredible game ready and waiting to be played at the Bovada Casino . Download and play Bonus Cards now to see what it is all about - and you could soon have some great winning amounts in your account!
But what can you expect to get from a Bonus Cards game?
What is the game all about?
When you open the game screen you will see a table laid out with nine playing cards. Choose your stake and then the top center one will flip over and the game begins.
The idea is that you have to choose what the next card will be - not exactly, but just whether it will be higher or lower than the existing card. You can also choose red, black or the suit it will be.
Depending on what you choose the potential winnings will be revealed on the right.
How do you choose what you want to bet on?
Just click on the relevant choice and then click the green 'confirm' button when you are happy with your choice.
You then have to click on the card you think will be the one you have bet on. You get to choose from all the cards that are there, so choose wisely!
What happens if you make correct or incorrect choices?
If you get it right you win the amount shown, and you get to progress to the next level. Ideally you want to go through all nine cards correctly to rack up the most winnings.
At some points you will see the 'cashout' button illuminated. You can then click on it if you want to cash out and take your existing winnings, without risking them by playing the rest of the Bonus Cards game.
An incorrect choice means the game is over and you have to start again.
What are the maximum and minimum starting bets?
The smallest opening bet is 1.00, and it then goes up in 1.00 increments. This means there is plenty of choice on how much to wager. Your winnings depend on how much you wagered to begin with.
Download and try out Bonus Cards today!
This is a simple game to get used to, but it is also one of the most exciting to play. A couple of free practice games will show you what to do, and you can then play your real Bonus Cards and attempt to win!