Spring Wilds Slots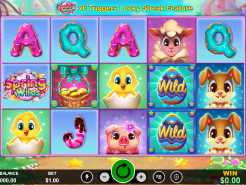 Play Now
The opening image for the Spring Wilds online slot game gives us a hint of what is to come when we load the reels. There's a chick, a little piglet, and a flop-eared bunny. Does that suggest a certain theme to you, given the title we have in play? We'll find out all the answers 'reel' soon for this slot game. If you're ready to play, make sure you don't do so until you have learned the facts about Spring Wilds slots right here.
Do we know who created this game?
We do, yes, and we'll reveal the familiar name right here… it's Realtime Gaming. You might have seen the RTG logo too, which typically highlights the promising nature of any title you find in their stable of games.
Demo availability for Spring Wilds
If you see this game at any casino offering RTG slots to play, you should be able to use the demo version first. This is free and doesn't have any real prizes, but it does give you the chance to check out the slot in action.
A spring-filled and delightful theme
We've seen slot games based around various seasons, and the newness of spring always makes for a great idea. We get plenty of Easter hints too, with eggs everywhere you look and cute Easter baskets also making an appearance.
Does the game have a great design?
We think so – they've gone for a traditional pastel color palette here, which does look impressive. There are lots of little baby animals involved, along with the trappings of Easter as you go through the game.
How to start playing the Spring Wilds game
There are five reels here, as you might expect, and each one uses the traditional three symbols. You don't have any opportunities to play for a progressive prize, but there are plenty of prizes contained in the paytable, as usual. We mentioned an Easter egg earlier, and while you cannot eat this one, you'll want to see it in play as the wild symbol. You can also look for the Easter basket as this occupies the scatter role. The game logo has a role to play as well, used here as the bonus symbol.
Payline quantity in Spring Wilds
The game offers you the chance to play on 25 lines.
Available coins to play with
Coin values go from just one cent up to five dollars. You can play your chosen coin on each payline.
Paytable details
We'd recommend you check this out before you do anything else in this game. With lots of symbols to hunt down, you can at least see what they look like and how much each one is worth.
Spring Wilds bonus feature
Remember the bonus logo? Find six of those in one spin and they'll remain where they landed. You can then watch a respin to find out if you can lock any further bonus symbols into place. If one or more of the bonus symbols appear, another respin begins. They finish when you get a spin where no more bonus symbols turn up. You're then awarded a prize for the quantity of bonus symbols you found – six at least, of course.
Free spins from an Easter basket or three
Or four or five, as the quantity of spins granted depends on finding three or more of them. You'll get between 10 and 20 free games according to your trigger quantity. It's possible to reach the respin bonus from inside the free games too.
Do we have an RTP value for this slot game?
No, and we know that RTG doesn't tend to reveal this detail.
Our rating for the Easter-filled delights in Spring Wilds
There is much to enjoy with this game, thanks to the combined Easter and springtime theme. There are plenty of features involved as well, giving us reason to score it at 8 out of 10.
For prizes, check the paytable
There are lots of prizes there, and of course, the more identical symbols you get from left to right on a paid line, the better the prize.
Play the demo if you haven't seen Spring Wilds before
Reading the paytable is one thing – playing the slot and experiencing all the features in action is another. Fortunately, RTG does give you the chance to try it, so make sure you do just that.
Play for real if you like the theme
And the prize potential, and the special elements, and more…
And you can play however you wish too
Yep – the modern game is fine to play on tablets and smartphones based on the Android and iOS platforms, along with regular computers.